Renee Bhatti-Klug (she/her)
NAME PRONUNCIATION: [Ruh-nay Ba-ha-tee Kloog]
Founder | Chief Trainer & Consultant
Culturally Intelligent Training & Consulting (CITC)
WORKSHOP DESCRIPTION
In this introductory workshop to Cultural Intelligence (CI), participants will understand why building CI is a critical step toward achieving DEI outcomes. Through interactive and reflective activities, participants will learn how to increase the values of curiosity, empathy, and compassion, which guide the capabilities of Cultural Openness, Cultural Awareness, and Cultural Responsiveness. All participants will receive an interactive digital guide to engage in reflective activities and continue the work of developing CI.
PRESENTER BIOGRAPHY
Renee Ronika Bhatti-Klug [Ruh-nay Ron-ih-kah Ba-HA-tee Kloog] (she/her/hers) is an innovative educational leader and researcher committed to the topics of developing Cultural Intelligence (CI), building people-centered curricula, and fostering inclusive environments. She has been educating students and training leaders from over 100 nations for twenty years. As a leader, Renee seeks to model the values of curiosity, empathy, and compassion, all through action-oriented and data-driven decision making. Renee developed and, through her doctoral research project, tested a CI model that has statistical and practical significance. She successfully has implemented this model across academic, corporate, and non-profit organizations. She is the founder and Chief Trainer at Culturally Intelligent Training & Consulting (CITC), a DEI firm that equips individuals to demonstrate CI organizationally through cultural audits, comprehensive training, accountability tools, and DEI committees. She also serves as Arizona State University's Senior University Educator, a role she established to deliver CI trainings and accountability tools to faculty and staff. Renee has lived in England and France, backpacked Europe, kayaked in Fiji, trained teachers in Madagascar, and been advanced certified as an Enneagram facilitator. She is an Enneagram 4w3/ENFPJ who lives with her husband, a pianist and composer, and their three loquacious children in her hometown of Phoenix, Arizona—where she has discovered green grass and true community. In extroversion, she goes to 11.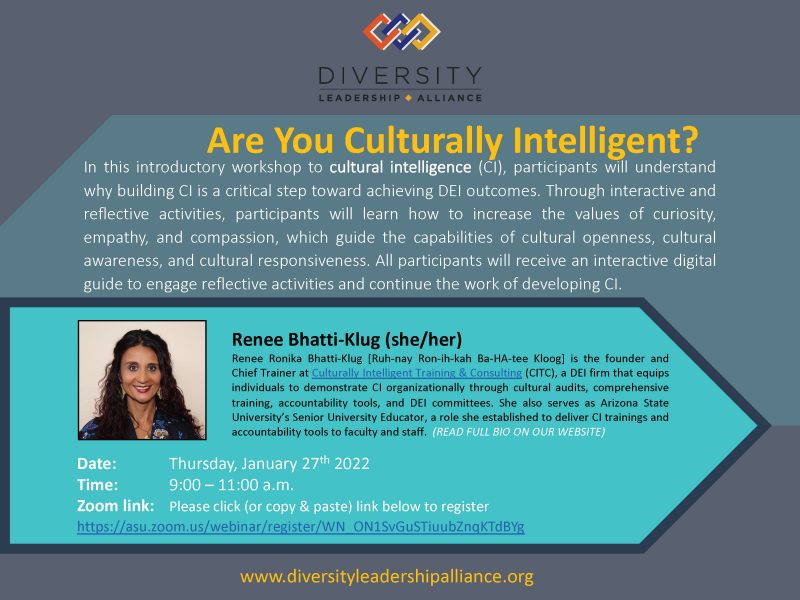 WORKSHOP LOGISTICS:
DATE: Thursday – January 27th 2022
TIME: 9:00 a.m. – 11:00 a.m.
LOCATION: The comfort of your home, office, backyard or couch.
Zoom Registration Instructions
Please register for this workshop here:
REGISTER
View Recording